The Data
In the research phase of our project, our attention was caught by one dataset in particular: 311 Service Request in NYC from 2010 to Present.
311 is a special telephone number that people can call to access non-emergency government services, a sort of 911 without the life-and-death factor. Clicking the image on the right you can see some examples.
Originally implemented with a call center, it has evolved over the years with technology: you can now submit a request via website or mobile app in a few seconds. You can also follow the status of the request until it is closed.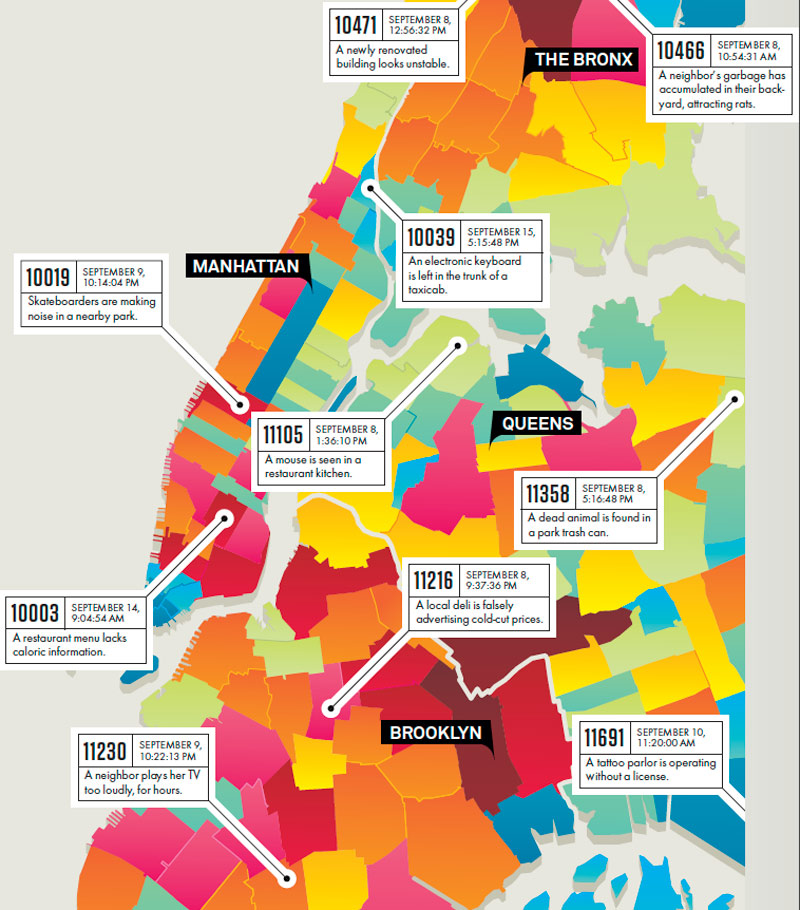 Exploration
Driven by curiosity, we started our analysis by looking at the most frequent complaints and their respective locations.
There is no better way to see our findings than seeing it by yourself! Just click anywhere in the map of New York City to get started.
Statistics
We spent the first two weeks of the project playing around with the complaints, extracting some interesting statistics while trying to understand on what to focus in the real analysis. We even produced a cool Youtube video explaining them: if you haven't already you should definitely check it out!
Did you know for example that the most frequent complaint is 'Noise - Residential'? What do these New Yorkers do in their apartments at night??
Do you have even a pale idea of how many complaints get submitted through this service? In 2016 alone there have been 1 351 096 requests! That is 3700 requests IN A DAY, or 5 requests per minute!
Do you want to know how the different New York agencies react to these requests? They are doing pretty well, last year the average time to resolution was around 5000 minutes, or 3 days. In comparison, in 2010 one request took in average 19 days to be resolved: quite an improvement!
Below you can see some nice histograms that can tell you more about these stories.